Legend
IDC Event
Third Party Event
Events
Sustainable Buildings Breakfast on Eco-Housing:
Passive House
Breaking New Ground in Insulation and Air Sealing
ED MARION
Principal, Passive House Ontario
This latest project, set for completion in June of 2014, represents the third high performance project undertaken by Passive House Ontario in the Oakville area. All of the Passive House Design principles were incorporated into this home including; optimizing overhangs for summer shading, compact building shape, minimizing thermal bridging, triple-glazed windows with insulated frames and orientation specific low-E coatings, high levels of insulation throughout, extreme air tightness, ventilation with high efficiency heat recovery, and a compact mechanical system optimized to maximize efficiency and comfort. A recent air leakage test confirms that the house is one of the tightest ever built in Canada. The low air leakage rate also bodes well for future envelope durability and ultra-low operating costs.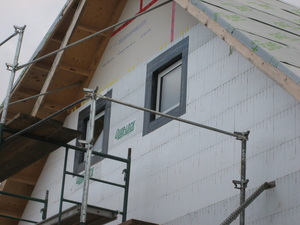 Image: Passive House Ontario

SPEAKER: Ed Marion
Driven by the desire to build better, more sustainable housing, Ed Marion has evolved to become one of the country's leading experts in high‐performance home design and construction.
A trained Passive House specialist, Ed focuses on the "House as a System" approach to envelope design to achieve high levels of comfort and ultra‐low operating costs. His first project, a retrofit in Oakville Ontario achieved an 80% reduction in heat energy demand. Two new projects in 2013 have added to his experience and enthusiasm for the Passive House concept. Ed operates Passive House Ontario, a consulting firm that specializes in strategies for building ultra‐low energy homes.
Location
Autodesk Canada Co, 210 King E, Toronto, ON M5A 1J7 (Map)
Date & Time

Registration: 8:30 am
Session: 8:45 am - 9:30am


@ Autodesk Canada
210 King St. E. Toronto

$25 Professional
$20 Student

For more information contact:
Jeff Ranson

Manager of Education & Outreach - Sustainable Buildings Canada

416-752-3535 x 2

jranson@sbcanada.org

Time in
1404822600
Register
Please click here to register.